Whether guests have booked Kianpour boutique hotel for a normal tour to Iran or for a business trip to Iran, undoubtedly, they expect high standards of customer service as well as a high levels of comfort and satisfaction. Every guest in Kianpour boutique hotel should feel special. In order to make their trip to Iran special and memorable we try to provide best services and be better host.
All of our guests are greatly important to us. As a result, looking for many different ways to make Kianpour boutique hotel guests feel special have positive effect and shows our hosting in its pick quality. 
There are many hotel review sites such as TripAdvisor that are a great source to find out about different aspects of most of the hotels in the world. Social media is providing a brand new platform for news to travel fast, so we would love to be doing all that we can in order to leave positive impression on our guests.
We did have host many good guests in our boutique hotel. Among which some of them are more memorable than others. As usual we were here hosting interesting people from all around the world that an artist booked a room in Kianpour boutique hotel. One of our latest guests whom visited Isfahan recently was Raul. Raul is a unique French man who was interested in Iranian culture, specially, Iranian architecture.
Before Raul comes to Isfahan, he visited Tabriz, Yazd, Kashan and other cities of Iran. Before Iran; he was just visiting Turkey. During his fantastic trip, he used his intelligence and artistic hands to create a beautiful piece of art in the form of a book.
When he was arrived at our historical house residence in Isfahan; he started to show interest in Iranian architecture. He realized that, there are not many historic house residences in Iran, which are kept safe and professional during renovation and re-usage. In this matter he found our boutique hotel fascinating and started to ask many questions about our place.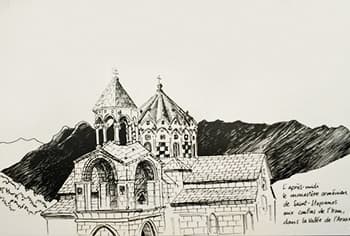 Of course we were happy and glad to answer him all the time. He would pick his pen and paper and just stare at anything he would find it interesting. Then, he would draw some of it and complete it later. To be honest, we were truly impressed by his intelligence. After his work, he would find comfort and rest his artistic eyes in our artistic historical house residence in Isfahan. 
He did send his kind note and his book to us as a memorable. We were glad to host you Raul, and, we are happy to do that all over again. Many thanks for your beautiful art and kind words.
We have posted his art here for others who appreciate art, architecture and Middle Eastern history. We hope to see you here and be your host as soon as possible.